Environmental Engineering
"ENVIRONMENTAL ENGINEERING DIVISION is engaged in execution of turnkey projects for Water Treatment Plants. The company has executed large German aided Water Treatment Plants of capacity 104 MLD and 60 MLD for the Government of Rajasthan besides other projects for the Government of U.P. We have collaborated with a leading Austrian company in Water Treatment Plants for Container Sewage Treatment Plants, Biological Waste Treatment Plants and other Water Treatment Plants.
Our collaborators are a leading European provider of mechanical-biological Sewage treatment and Water Treatment Plants, ranging from containerized small compact sewage treatment units (200 PE) to large-scale waste water treatment plants. In over 30 years of experience the company has delivered multiple projects using SBR, ASP and two basin based solutions, all tailor made to the specific requirements such as limited space and high altitude.
As Sewage Treatment Plants produce high quantities of sludge, they have excellent knowledge of sludge treatment − particularly thickening, dewatering, conveying and the subsequent composting using sieving, screening, classifying, scraping techniques or when the composition and quantity of the sludge is sufficient they have designed bio-methanization solutions for power generation."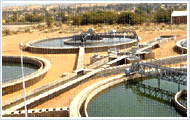 Reservoir & clarifloculators for 104 MLD Water Treatment Plant at Dharnasar, Churu, (Raj.)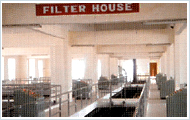 Filter Beds and Filter House of 104 MLD Water Treatment Plant at Dharnasar, Churu (Raj.)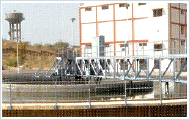 Chemical House Building of 104 MLD Water Treatment Plant at Dharnasar, Churu (Raj.)