Pipe Conveyors
A break through in Belt Conveyor Technology overcoming the limitations of conventional conveyors.
As the name implies the belt is wrapped into a cylinderical pipe form, guided by six hexagonally arranged idlers along the conveyor route.This allows the conveyor to negotiate inclines of upto 30 deg. and curve in both, the vertical and the horizontal directions, enabling it to negotiate obstacles that would obstruct a conventional straight conveyor. With the product completely enclosed within the belt pipe, spillage is eliminated along the conveyor run on both the carrying and the return side.
Our Group has commissioned One of the World's Largest Single flight Pipe Conveyor of 3.2 km Single Flight having capacity of 1760 TPH on turnkey basis. The conveyor is being used to convey Copper Concentrate, Rock Phosphate, Coal from the jetty to the plant.
Apart from this we have commissioned a 'S'shaped Pipe Conveyor for handling DRI at Vikram Ispat, Revadanda. The capacity of the conveyor is 300 TPH and is 300 mtrs in length. Other installations include Pipe Conveyors of 300 to 500 mtrs with different curvatures.
Application
The Pipe Conveyor system can be used for carrying all types of bulk materials from fine material to 400 mm lump size.Pipe conveyor systems are already in use in the following industries:
Metallurgical lndustry
Cement Industry
Fertilizer Industry
Paper and Pulp Industry
Mining
Food Industry
Design
In a Pipe Conveyor system the belt runs flat over the head, tail and snub pulleys. The belt is troughed by idlers at the feeding point. Once the belt is loaded, it is formed into a pipe by overlapping its edges. At the discharge end the belt opens out to a troughed belt running flat over the pulleys. Material can be transported on the return belt.
Intermediate loading can be provided at any point by opening and closing the belt at the required feed point.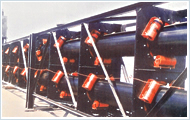 Cross Section of Pipe Conveyor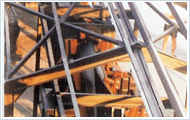 Tail End of Pipe Conveyor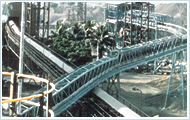 'S' Shaped Pipe Conveyor at Vikram Ispat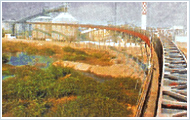 90 degree horizontal curve of Birla Copper Pipe Conveyor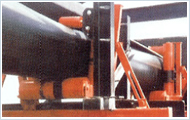 Finger Roller on Tail End of Pipe Conveyor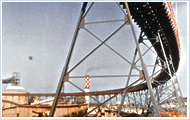 90 degree horizontal curve of Birla Copper Pipe Conveyor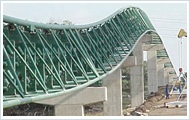 View from head end into curve : Birla Copper Pipe Conveyor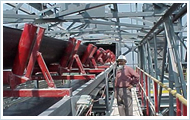 Pipe opening at head end : Birla Copper Pipe Conveyor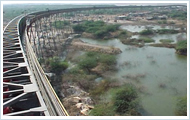 Birla Copper Pipe Conveyor : View of pipe curve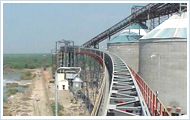 View of pipe curve : Birla Copper Pipe Conveyor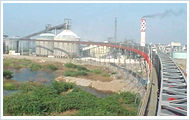 Birla Copper Pipe Conveyor
View of belt curve from tail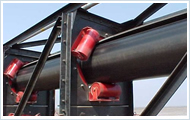 Panel layout
Birla Copper Pipe Conveyor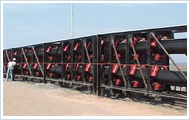 Vertical curve layou t: Birla Copper Pipe Conveyor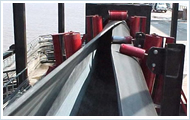 View of carry side pipe forming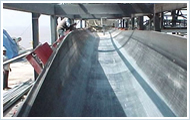 View of carry side pipe forming Birla Copper Pipe Conveyor