Manufacturing
Idler Rollers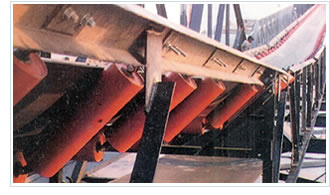 Idler Rollers are designed considering all factors to ensure minimum starting resistance, high efficiency, high load capacity and a long life with virtually no requirement of maintenance.Idlers Rollers conforn to IS:8598; and are packed with Lethium based grease for life.
Roller Shell is made from ERW tube of close tolerances to satisfy the stringent International Standards. Shaft is of bright bar which is machined to IS J6 tolerance value
Hearing Housing is a deep drawn pressing of CRCA steel machined and calibrated to IS M7 tolerance values for bearing seat. Bearing Housing are welded tothe roller shell by a co2 welding machine to achieve minimum distortion.
Rollers are fitted with seize resistant / deep groove type ball bearings. Triple multilabrynth sealing arrangement ensures protection to the bearings which are grease against any ingress of dust and moisture.
After assembly each roller under goes a "Free Rotation Test".Tests for ingress of dust.Water intake and friction factor are also ensure a quality product.
Idler Frames are jig welded. The inverted angle abase prevents accumulation of material below the roller base and ensures free running of the roller.
Pulleys
Pulleys are designed using a unique programme developed to ensure an optimised design.
All pullyes are manufactured to stringent tolerances to satisfy International Standards and IS 8531.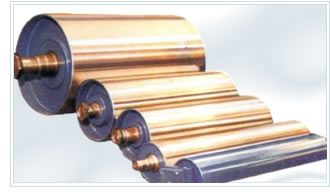 Conveyor Pulleys Shells are rolled from high quality weldale steel to close tolerances."ully Shafts" are made from Caerbon Steel /ENS and are machine tools to achieve the required tolerance, to minimize quality to ensure stress distribulies are ue.All shafts are ground to close tolerances at the places where the bearings are fitted.Hubs and end discs are accurately machined to ensure concerntricity.All pulleys are stress relieved and statically balanced.
Pully can be supplied with bearings along with bearing blocks,Pully can be supplied with a keyed shaft to hub or by incorporating friction based releasable locking element, which are all centring and self locking.
Pully surface in contact with belt is provided with crowned profiles/ plain rubber lagged depending upon the application.
| | | |
| --- | --- | --- |
| | | |
| Conveyor Idlers | Conveyor Pulleys | Conveyor Rollers |